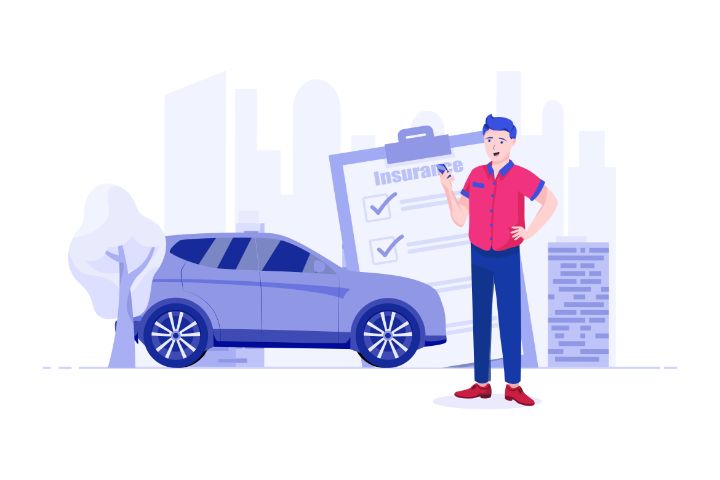 Four-wheeler insurance covers a variety of unforeseen losses that your vehicle can experience while travelling. You may get them covered by comprehensive vehicle insurance, whether it's a total loss of the insured automobile or a tiny accident that only results in a few minor car scratches.
Will It Be Covered By Your Auto Insurance Policy?
Any other damage other than third-party liabilities, such as physical harm, fatalities, or property damages, is not covered by a third-party liability auto insurance policy. Damage to third parties is not considered small damage, and you can file a claim for it with this kind of insurance policy. But, you cannot use a third-party policy to cover small damages to your vehicle.
If you possess a comprehensive auto insurance policy, you may be able to file a claim for a little repair. This coverage offers financial support in the event of third-party obligations in addition to covering its own damages. Hence, before filing an insurance claim for a scratched car, you must take into account the type of auto policy you have.
Will Your NCB Be Affected?
Before filing a modest auto insurance claim, it's important to consider how the claim may affect your No Claim Bonus concession. A policyholder receives an NCB as compensation for not filing a claim during the insurance year. This incentive builds up and can be utilised to gain a concession on the premium at the time of four wheeler insurance renewal your four-wheeler insurance renewal. *
Has It Any Effect On Your Deductibles?
When you get four-wheeler insurance online, you might consent to pay a portion of the total sum insured when a claim is settled. This sum is referred to as a deductible. The insurance provider pays the remaining claim sum. As a result, you end up paying for some of the harm done to your car. *
Furthermore, because you have filed a claim with your auto insurance company for a minor repair, you will forfeit your NCB incentive. Hence, be cautious about assessing the deductible amount you will have to pay and whether it works in your favour before filing a claim for minor repairs like automobile scratches. *
Has It An Effect On Your Premium?
Increasing subsequent claims affects both your claim history and NCB. The cost that you will pay for your auto insurance in the future will be greatly influenced by this element. You can eventually be required to pay a higher motor insurance rate if you file several claims, even for modest repairs. *
You are entirely responsible for filing a motor insurance claim for small repairs like scratches. When making any decisions, keep in mind that your insurer records every claim you make, no matter how little, and that this might hurt your premiums in the future. Hence, avoid submitting an insurance claim as much as you can to prevent having to pay more later on for the same coverage.
* Standard T&C Apply
Insurance is the subject matter of solicitation. For more details on benefits, exclusions, limitations, terms, and conditions, please read the sales brochure/policy wording carefully before concluding a sale.